Assalamualaikum Warahmatullahi Wabarakatuh.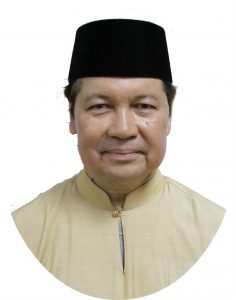 May the peace and blessings of Allah s.w.t. be upon you.
As the Dean of the Faculty of English and Foundation Studies (FOLAFS) at KUIPSAS, I would like to wish all of you a Happy New Year 2017 and hope that all your wishes will come true this year.
I would also like to welcome you to explore our website and discover interesting programmes and courses offered at this college university, particularly at this faculty.  FOLAFS at KUIPSAS offers a Diploma in English which provides students knowlegde and skills in areas pertaining to the practical use of the English Language, particularly at the workplace.
Major emphasis is placed on students' ability to communicate effectively, to think critically and creatively, to deliberate on issues in real work environments, and to solve problems amicably such that their leadership talents and potentialites emerge in real life situations.
With training in understanding the various aspects of Muslim life traditions, and strengthened by vigorous efforts to master the knowledge of Quran, Sunnah and Islamic Fiqh, the graduates of this Diploma programme possess the necessary knowledge, skills, and more importantly, wisdom, to transform society in many positive ways.
For parents who want their children to receive adequate training in English communication skills and to master necessary soft skills, coupled with the knowledge of Islamic studies, you should seriously consider FOLAFS as your children's academic destination.
FOLAFS has great plans for the future of education in KUIPSAS.  IsyaAllah, the Faculty plans to offer exciting programmes at the Foundation, Bachelor, Master, and Ph.D. levels in the not-too-distant future.  In fact, the Foundation Studies programme may be offered this year.
FOLAFS has an innovative team of lecturers.  We are dedicated and committed to providing the best teaching practices and student-support initiatives.  Students of our faculty are given the most effective learning experience via the appropriate use of teaching approaches and modern instructional technology.  Above all, the lecturers at FOLAFS have for so long, demonstrated a deep passion for the achievement of accurate learning outcomes and the development of high moral values among our students.
For parents, guardians and prospective students, I welcome you to FOLAFS at KUIPSAS.
Prof. Madya Dr. Jelani bin Sulaiman  S.A.P.
Dean
Faculty of English and Foundation Studies (FOLAFS)
Kolej Unversiti Islam Pahang Sultan Ahmad Shah